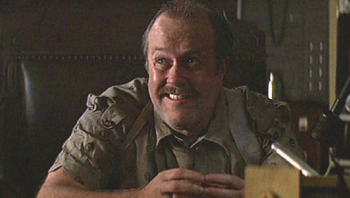 Michael Emmet Walsh (born March 22, 1935 in Ogdensburg, New York) is an American character actor who has appeared in over 100 film and television productions. He played Capt. Bryant in the film Blade Runner.
One of his most acclaimed roles was as the double crossing private detective in Blood Simple (1984) for which he won the 1986 Independent Spirit Award for Best Male Lead.
Blade Runner quotes
Edit
"I need ya, Deck. This is a bad one, the worst yet. I need the old blade runner, I need your magic."
Walsh made occasional guest appearances on Home Improvement as Tim Allen's father-in-law.
In Christmas with the Kranks, he plays one of Allen's neighbors.
Stanton-Walsh Rule: according to Roger Ebert "no movie featuring either Harry Dean Stanton or M. Emmet Walsh in a supporting role can be altogether bad". Ebert later conceded that this rule was broken by 1999's Wild Wild West.
External links
Edit
Ad blocker interference detected!
Wikia is a free-to-use site that makes money from advertising. We have a modified experience for viewers using ad blockers

Wikia is not accessible if you've made further modifications. Remove the custom ad blocker rule(s) and the page will load as expected.