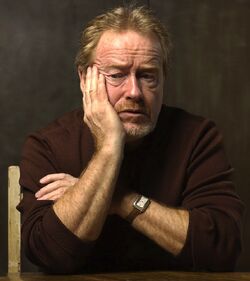 Sir Ridley Scott (born November 30, 1937 in South Shields) is an influential British film director and film producer|producer. He directed the groundbreaking science fiction film Blade Runner in 1982.
Background
Edit
Scott grew up in an Army family meaning that for most of his early life his father - an officer in the Royal Engineering Corp - was absent. Ridley's older brother Frank Scott joined the Merchant Navy when he was still young and the pair had little contact. After the war the Scott family moved to Germany and then settled in Teesside. He studied there, from 1954 to 1958, at the West Hartlepool College of Art, graduating with a Diploma in Design. He was to progress to an M.A. in photography course at London's Royal College of Art from 1960 to 1962. There, he was to contribute to the college magazine ARK and help to establish its film department. For his final show he made a black and white short film Boy and Bicycle starring his younger brother Tony Scott and his father. The film's main visual elements would become features of Scott's later work. After graduation in 1963 he secured a traineeship as a set designer with the BBC leading him to work on the popular television police series Z-Cars and the science fiction series Out of the Unknown. He was also assigned to design the second Doctor Who serial, The Daleks, which would have entailed realising the famous alien creatures. However, shortly before he was due to start work a schedule conflict meant that he was replaced on the serial by Raymond Cusick. At the BBC Scott was placed into a directing training programme and before he left the corporation had directed episodes of Z-Cars, its spin-off Softly Softly and Adam Adamant Lives.
Early work
Edit
Scott quit the BBC in 1968 and established an advertising company 'Ridley Scott Associates' working with Sir Alan Parker, Hugh Hudson, Hugh Johnson and employing his younger brother Tony. Having cut his teeth on UK television commercials in the 1970s—most notably the 1974 Hovis advert "Bike Round" (New World Symphony) filmed in Shaftesbury—he graduated to Hollywood, where he produced and directed a number of top boxoffice films. His first feature, The Duellists, was produced in Europe and won a jury medal at the Cannes Film Festival but made limited impact in the US.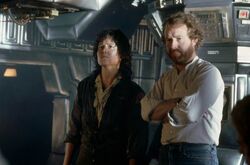 Scott's disappointment with The Duellists was compounded by the success being enjoyed by Alan Parker with American backed films - admitting he was 'ill for a week' with envy. Scott had originally planned to next adapt an opera, Tristan and Isolde but after seeing Star Wars, he became convinced of the potential of large scale, effects-driven films. He thus accepted the job of directing Alien, the 1979 ground-breaking horror/science fiction film which would give him international recognition. While he would not direct the following three sequels, the female action hero Ellen Ripley (Sigourney Weaver) which he created in the first film, would become a cinematic icon.
Ad blocker interference detected!
Wikia is a free-to-use site that makes money from advertising. We have a modified experience for viewers using ad blockers

Wikia is not accessible if you've made further modifications. Remove the custom ad blocker rule(s) and the page will load as expected.