Tyrell Corporation
Talk

0
96pages on
this wiki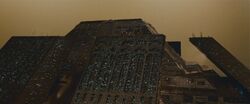 The Tyrell Corporation is a fictional corporation from the 1982 Ridley Scott film Blade Runner. Based in Los Angeles in the year 2019, Tyrell is named after its founder Dr. Eldon Tyrell and is a high-tech biocorp primarily concerned with the production life-like androids (or replicants).
The company's motto is "More human than human".
The building
Edit
The corporation is headquartered in two large, pyramid-like structures that lie on the outskirts of Los Angeles. Elevators run along the outside of the massive structures, which both are at least 800 stories high.
Special effects photographic supervisor Douglas Trumbull, in the 1982 Official souvenir magazine, stated,
"I can't remember exactly, but I think the pyramid was a composite of my own ideas and [Director]~-start-0-stop Ridley [Scott]~-start-1-stop's. Originally the Tyrell building was going to be right in town, it was going to be a massive building right inside the city. We decided it would be much more visual and stark to place it way outside the town, so that it really rose above the horizon.
"The pyramid was the first miniature we built. Across its base it was probably eight feet by eight feet. The top was probably two feet square. It was built prior to principal photography, because the first scene shot was the interior of Tyrell's office, and we had to have process plates of the other pyramid outside the window. So we had to build the pyramid, photograph it, prepare the plates and do front projection on that set." (Souvenir magazine, pg. 7.)
In the film
Edit
Spoiler warning: Plot and/or ending details follow.