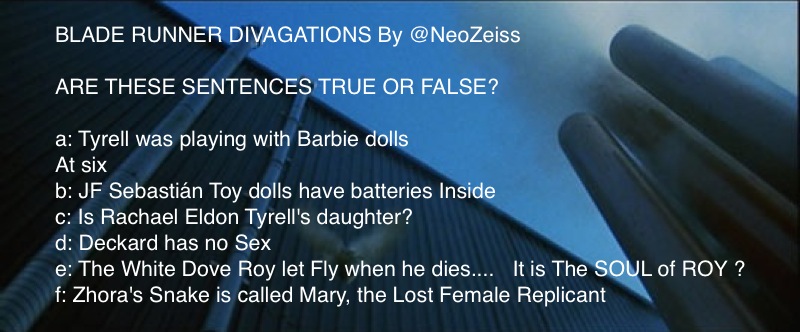 BLADE RUNNER DIVAGATIONS By NeoZeiss
ARE THESE SENTENCES TRUE OR FALSE?
a: Tyrell was playing with Barbie dolls At six b: JF Sebastián Toy dolls have batteries Inside c: Is Rachael Eldon Tyrell's daughter? d: Deckard has no Sex e: The White Dove Roy let Fly when he dies....   It is The SOUL of ROY ? f: Zhora's Snake is called Mary, the Lost Female Replicant
Ad blocker interference detected!
Wikia is a free-to-use site that makes money from advertising. We have a modified experience for viewers using ad blockers

Wikia is not accessible if you've made further modifications. Remove the custom ad blocker rule(s) and the page will load as expected.